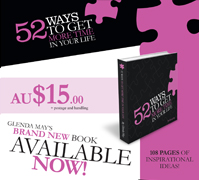 52 Ways to Get More Time in Your Life
Now #7 in AIM's Management Books.
In this book Glenda May focuses on improving output, lowering stress, and saving time.
As a corporate psychologist, she specialises in achieving productivity gains for her corporate clients. Glenda does this by facilitating employees to undertake their own mind-set makeovers to boost passion, purpose and potential.