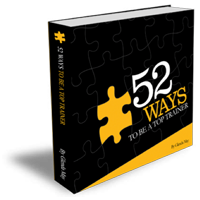 You lost an hour over the weekend.
Yes, the dreaded "spring forward" of daylight savings time. Here in Australia we set our clocks ahead one hour to shift the day for more daylight and the seasons.
Of course, this meant one less hour in your day on Sunday.
What did you lose? Sleep? Exercise? Quiet time?
(Interesting how we love Daylight Savings in autumn, when we set our clocks back and gain an hour.)
So, you had one hour less in your day. Whether you chose to lose sleep or daytime was up to you.
Less Time Than the Day Before That, As Well
You also have less time that you did the day before yesterday.
Why?
We all have limited time in our lives.
You don't get more. You can't create more. And you certainly can't keep it from passing.
Of course, the catch is, you never know just how much time you have left.
That's just how the game of life works.
As the saying goes, "Don't confuse being busy with being productive."
Yes, you have one less hour in your day, but can make conscious choices about how you spend the remaining time.
Be mindful of what you do with your time today and every day.
Every hour you have is precious.
Do Something Today
|You may not get another chance to do what you want to do.
Or more time to pursue that dream you have been putting off.
Or to tell that special person how you feel.
So, do it today.
Make every day and every hour count.
After all, it's your time.